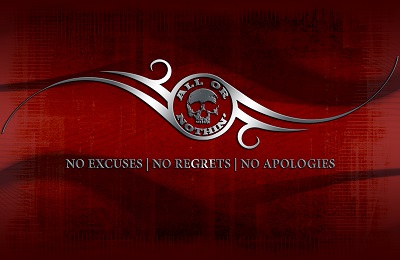 All or Nothin' consists of veteran rock musicians and songwriters each with diverse musical tastes and influences who write music from the heart and music they like to hear with one exception, no preconceived notions or limitations. Vocalist Travis King hails from Knoxville, TN, Guitarist Dean Havlik from Waterloo, Iowa, Bassist Joe Cavaliere from New York City and Drummer Eric Waldrup from Detroit, MI now call Chattanooga, Tennessee their base of operation.
All or Nothin' is more than a just a heart and fist pounding Hard Rock/Metal band, they are a hard driving, hi-energy rock machine with unparalleled exuberance. All or Nothin' is a philosophy, a mindset, a mantra to live your life by.
These rockers have formed a brotherhood that has started them on the path to fulfill their dreams and destiny. Teaming up with Producer Yanic Bercier at WaveTransform Studio in Knoxville, TN has enabled All or Nothin' to capture their live energy and sound as it was meant to be heard and will be on their debut EP and future releases.
All or Nothin' has already received a tremendous buzz on radio stations across North and South America, Europe and Asia as well as on Internet music sites around the world, not to mention having fans in Australia and New Zealand.
All or Nothin' offers No Excuses, No Regrets and No Apologies because everyone needs a good ass kickin'… so Get Ready!!!!!