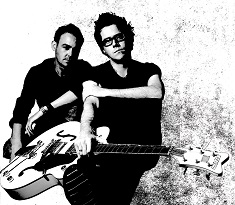 Bang – Valentino is Dead!
Alternative-rockers blast onto the scene with LA's finest at the helm
EDGY and hard-hitting alternative Irish rockers
VALNETINO IS DEAD

look set to emerge from virtual obscurity with a bang after teaming up with one of LA's most prolific producers and engineers to mix their debut album.
Entitled, 'Misadventures in Punk Rock' the album was given a massive rock sound by Michael James (IndieProMix) and Dave Donnelly (DNA Mastering) in LA whose list of clients include none other than Jimmy Page, Slash, Hole, Aerosmith and Red Hot Chili Peppers to name but a few.
VALNETINO IS DEAD

are Keith Smith (vox, guitar), Boey (guitar) who are no strangers to the Irish music scene having played together for years in their former band 'The Keds'. Completing the line-up is David Black on drums.
Despite the title, singer and guitarist Keith said this is not your typical punk rock album. He explained, "This album is more rock than punk in sound but where it lives up to its title is how it was created. Although it was mixed in LA to give it this huge sound it was actually recorded by us in our own home studio."
"The punk rock ethos is all about doing things for yourself and that's what we've done with this album and this new band from record the songs, to designing the artwork, to building the website and even having a big hand in creating the two music videos that accompany the album."
Misadventures in Punk Rock is currently available from iTunes and on hardcopy from the band's website www.valentinoisdead.com where you can also get a free download of the hard-hitting opening track 'Up Your Anti'.
For further information, hi-res images and Press Enquiries contact:
QUICK LINKS:
Watch 'A Galway Tale' video:
Watch This City Tonight Video: